Fast and clean execution is essential for futures traders, as it can mean the difference between making a profitable trade and incurring significant losses. The speed of execution can be a critical factor in capturing fleeting market opportunities and reacting to price changes in real-time. AI technologies, including machine learning algorithms and predictive analytics, have become indispensable tools for traders looking to gain an edge in this highly competitive environment.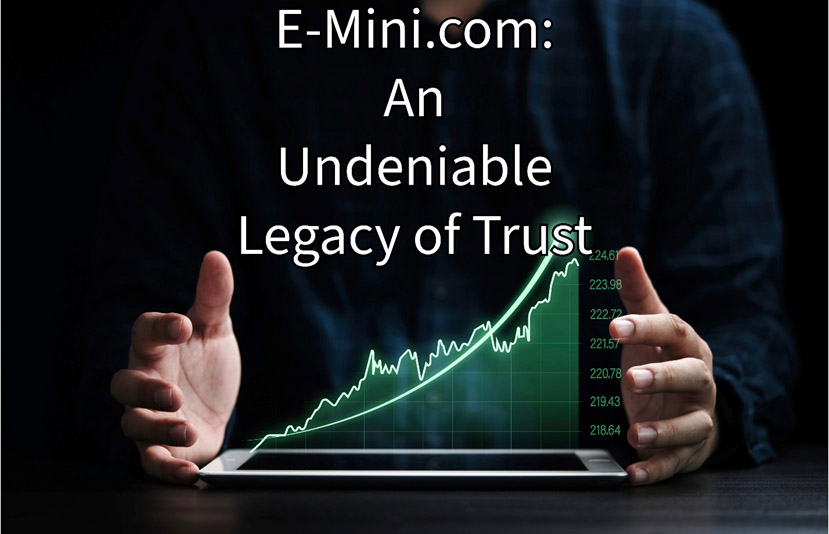 E-mini futures contracts have gained popularity in recent years due to their smaller contract sizes, making them more accessible to a wider range of traders. Trading the E-mini futures, such as the S&P 500 E-mini, provides exposure to the movements of major equity indices and allows traders to manage risk more effectively.
When engaging in futures trading, the reliability of the futures brokerage you're doing business with is paramount. Your choice of futures broker can significantly impact your overall trading experience. A trustworthy and reputable broker should offer low-latency trading infrastructure, robust risk management tools, and exceptional customer support to ensure that your trades are executed promptly and accurately.
One brokerage that has gained attention in the futures trading community is E-Mini.com, which boasts an impressive 4.9 out of 5-star rating on TrustPilot. This high rating reflects the trust and satisfaction of its users. Here's why E-Mini.com has earned such acclaim:
Reliability

: E-Mini.com understands the critical role that platform reliability plays in futures trading. They invest in cutting-edge technology to ensure that their trading platform can handle the demands of high-frequency trading. This reliability allows traders to execute their strategies with confidence.

Customer Service

: A futures broker's customer support is essential. E-Mini.com's high rating may be attributed, in part, to their responsive and knowledgeable support team. Traders appreciate having a reliable resource to turn to when they encounter issues or have questions.

Low Latency

: E-Mini.com has optimized its platform for low-latency trading, giving traders a competitive advantage. In the fast-paced world of futures trading, every millisecond counts, and E-Mini.com recognizes this.

Advanced AI Technologies

: E-Mini.com leverages AI technologies to provide traders with real-time insights and market analysis. These tools can assist traders in making informed decisions and managing risk more effectively.

Transparency

: TrustPilot reviews often highlight the transparency of E-Mini.com. Transparent pricing, clear terms, and reliable order execution are all factors that contribute to a positive trading experience.
The world of futures trading has evolved significantly, and the importance of fast, reliable platforms cannot be overstated. Advances in AI technologies have further enhanced traders' capabilities. E-mini futures contracts have made trading more accessible, and choosing the right futures broker is crucial. E-Mini.com's impressive 4.9 out of 5-star rating on TrustPilot reflects their commitment to reliability, customer service, low latency, AI technologies, and transparency, making them a strong contender for those seeking the best futures broker for trading the E-mini futures.
Ready to start trading futures? Call 1(800)454-9572 and speak to one of our experienced, Series-3 licensed futures brokers and start your futures trading journey at E-mini.com today.
Disclaimer – Trading Futures, Options on Futures, and retail off-exchange foreign currency transactions involves substantial risk of loss and is not suitable for all investors.  Past performance is not indicative of future results. You should carefully consider whether trading is suitable for you in light of your circumstances, knowledge, and financial resources. You may lose all or more of your initial investment. Opinions, market data, and recommendations are subject to change at any time.